5 min read
Helpful Tips and Insights From Women in the Financial Services Industry: Part 1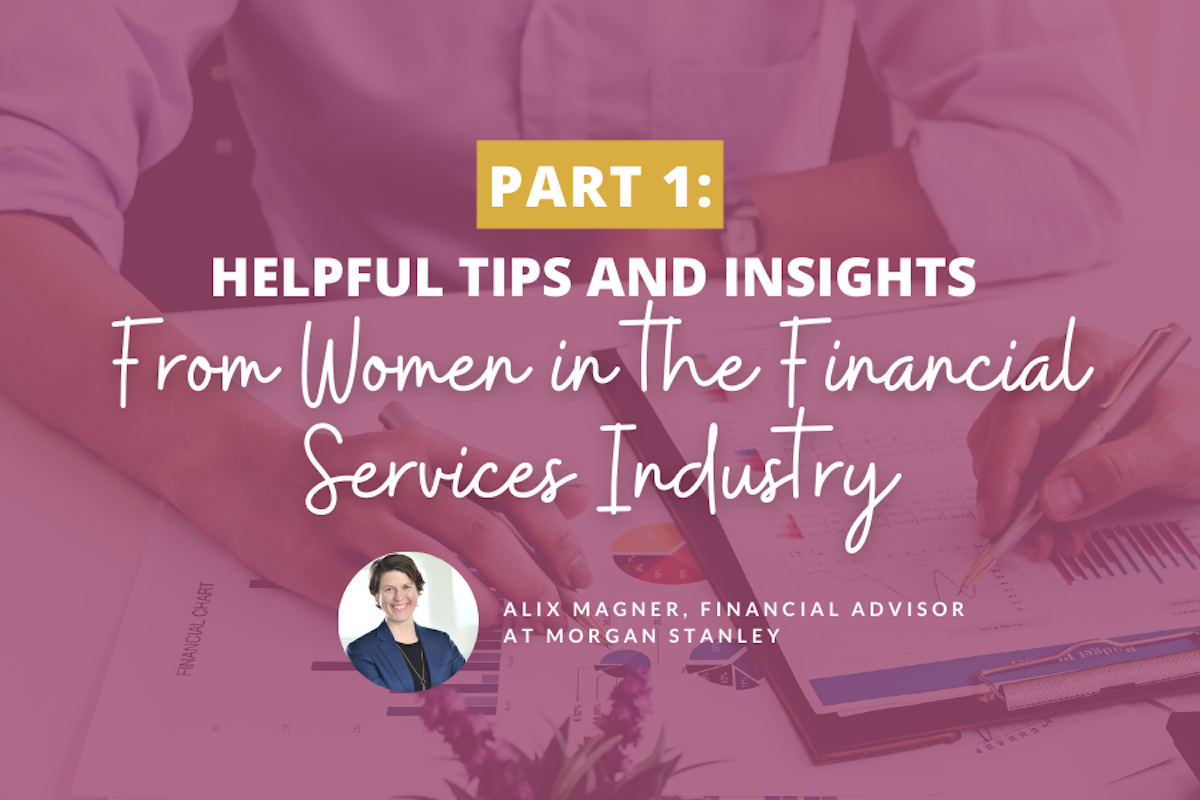 One of our favorite parts of what we do is learning about other industries from our clients, referral partners and trusted advisors. One industry we've been learning a lot about these past few years is the financial services industry. Whether it's filing your taxes, purchasing a home and securing financing or investing your money and creating a legacy account for your children and grandchildren, everyone depends on financial experts at some (or many!) points during their lives.

At Wild Fig Marketing, we are honored to share the company of many incredible women in the financial services industry. We took some time recently to interview four of these women and learn from them. We think you will find their insights valuable!
This is the first in a series of four interviews.
We'd like to start by introducing you to Alix Magner, Financial Advisor at Morgan Stanley.
Hello Alix! Can you please give us a brief overview of what you do at Morgan Stanley?
As a Financial Advisor at Morgan Stanley, I run an intentional wealth practice with a focus on sustainable investing. Most of my clients are purposeful women and their families who are smart, busy and successful. My practice works primarily with women business owners and professionals, tech employees, and LGBTQ+ people. In my practice within Morgan Stanley, I work with clients to make plans that work for them and I invest their money in support of their plan.
What is a common myth in your industry?
One of the biggest myths around sustainable investing is that aligning your investments with your values generates lower returns than traditional investing. But we have analyzed the data and found that this is simply not true. Recently, the Morgan Stanley Institute for Sustainable Investing analyzed 11,000 mutual funds, comparing the performance of sustainable investments versus traditional investments from 2004 to 2018. What did we find? We discovered that the sustainable investments performed in line with the traditional strategies—with one big difference: The sustainable funds had a lower volatility and a 20% smaller downside deviation compared to the traditional funds.1 I believe this helps to back up my view: Sustainable investing is sound investing and factoring in how businesses impact the environment, society and the global community is not at odds with good investing—indeed, it may make it more robust.
If you could only share one tip (relating to your industry) with small businesses this year, what would it be and why?
This wild COVID year accelerated many people's long-term plans—buying a business, selling a business, working from the cabin, expanding the business…COVID has made everyone rethink their assumptions and where they want to be in the future.
Make sure that how you've structured your business (how you're incorporated and your ownership structure) supports those big plans. It's easy to get caught up in the daily weeds of running your business. Your business structure has a huge impact on what types of retirement accounts you can offer and on your succession planning. There are a lot of potential benefits to setting up the right structure. Take the time to think through how you're structured now and how you should be structured. Now is the time to ask your advisors and think about the future.
Who do you love to work with and what do you love most about the work you do?
I love to work with women who are the breadwinners for their households. My clients are women who have continued to be successful and the more successful they get, the more complex the money stuff gets and the less time they have to manage it. When the finance questions swirl in their brains, they're thinking:
How much should I reinvest in my business?
What type of retirement plan or equity plan should I offer my employees?
Can my spouse stop working?
As complicated as my situation is, am I missing anything?
I love working with women and their families to simplify the complexity and create systems to put the right money in the right places. I love problem-solving. And I enjoy being the person who takes care of the money so my clients can do the big things they want to with their lives.
What's your #1 go-to resource (websites, podcasts, publications, etc) for information about your industry?
My # 1 go-to resource for information in my industry is the Wall Street Journal. Yes, I get the actual, physical newspaper delivered to my doorstep every day. I've found that keeping up on U.S. and world events gives me the context I need to understand the financial markets and the world.
To learn more about Alix, visit her website at
https://advisor.morganstanley.com/alix.magner
"Sustainable Reality: Analyzing Risk and Returns of Sustainable Funds," Morgan Stanley, Institute for Sustainable Investing, 2019, https://www.morganstanley.com/content/dam/msdotcom/ideas/sustainable-investing-offers-financial-performance-lowered-risk/Sustainable_Reality_Analyzing_Risk_and_Returns_of_Sustainable_Funds.pdf.
Alix Magner is a Financial Advisor with the Global Wealth Management Division of Morgan Stanley Smith Barney in Minneapolis, MN. The views expressed herein are those of the author and do not necessarily reflect the views of Morgan Stanley Wealth Management or its affiliates. All opinions are subject to change without notice. Neither the information provided nor any opinion expressed constitutes a solicitation for the purchase or sale of any security. Past performance is no guarantee of future results.
The returns on a portfolio consisting primarily of Environmental, Social and Governance ("ESG") aware investments may be lower or higher than a portfolio that is more diversified or where decisions are based solely on investment considerations. Because ESG criteria exclude some investments, investors may not be able to take advantage of the same opportunities or market trends as investors that do not use such criteria.
Tax laws are complex and subject to change. Morgan Stanley Smith Barney LLC ("Morgan Stanley"), its affiliates and Morgan Stanley Financial Advisors and Private Wealth Advisors do not provide tax or legal advice and are not "fiduciaries" (under the Investment Advisers Act of 1940, ERISA, the Internal Revenue Code or otherwise) with respect to the services or activities described herein except as otherwise provided in writing by Morgan Stanley and/or as described at www.morganstanley.com/disclosures/dol. Individuals are encouraged to consult their tax and legal advisors (a) before establishing a retirement plan or account, and (b) regarding any potential tax, ERISA and related consequences of any investments made under such plan or account.
Morgan Stanley Smith Barney LLC. Member SIPC.
CRC#3489389 03/2021