7 min read
7 Strategies To Help Generate Revenue on Black Friday & Cyber Monday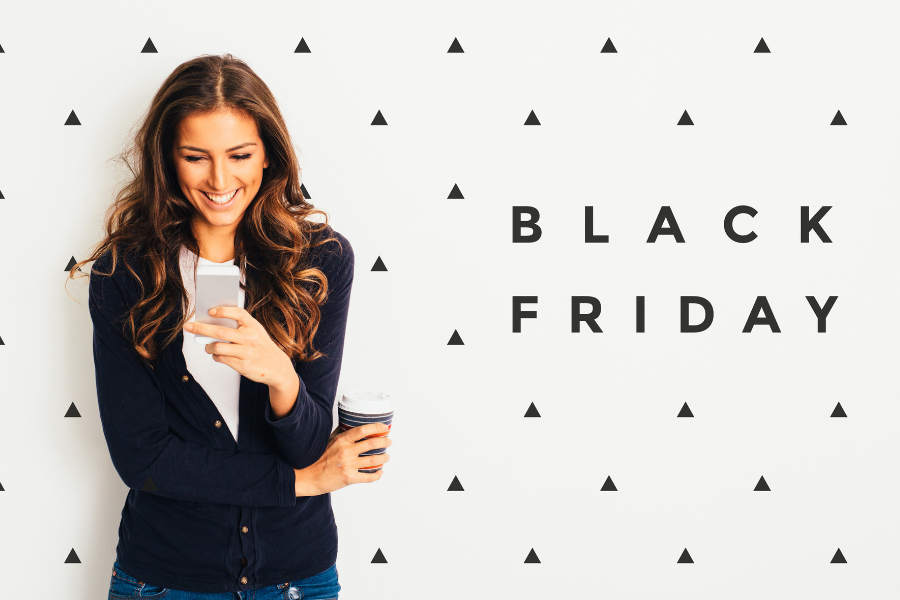 Did you know that "Black Friday" originated in the 1950s to describe the shopping chaos (and thievery) in Philadelphia that preceded each annual Army-Navy football game? Years later, retailers rewrote the origins of "Black Friday" to have a more positive connotation.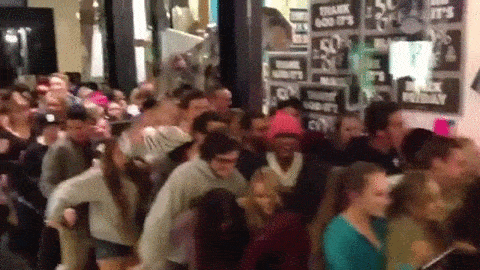 For them, "Black Friday" meant that the day after Thanksgiving, their books were no longer in the red, but in the black! Then, in the early 2000's, Cyber Monday came along, as a way to encourage shoppers to buy from online stores.
No matter what the origin story is, it's certain that Black Friday and Cyber Monday are invaluable opportunities for businesses to make a profit. To get the most out of these special days, consider these 7 strategies that can help you generate more revenue this Black Friday & Cyber Monday.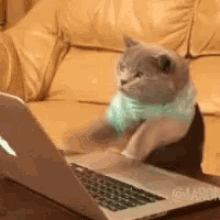 Though you probably know this already, it's worth noting that it's going to take more than one email or social media post to generate excitement about your Black Friday/Cyber Monday sales!
Be ready to communicate with your mailing list before, during, and after your holiday sale events. Create a schedule of when your business is going to send key promotional messages to generate traffic, and stick to it. For a truly effective Black Friday/Cyber Monday marketing campaign, you should prepare:
At least 3 emails (for example, a presale announcement email, interest generation email, sale announcement, sale ending soon announcement, or a thank you for your purchase email).
At least 3 social media posts (include vibrant images of your products on instagram, a link to landing page on Facebook, a countdown timer on LinkedIn, etc.)
You can, of course, create more content than this. The perfect amount of promotional content will vary by brand or industry. As the business owner, you will know exactly the amount of promotion your customers and contacts need.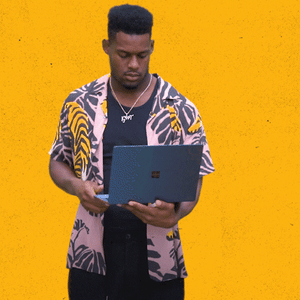 With the right strategy and follow-through, email marketing can be your secret weapon for increased revenue. Email automation can allow you to segment your email list and craft personalized email campaigns that both resonate with your audience and promote your Black Friday deals.
Send a few pre-Black Friday/Cyber Monday emails to your subscribers in order to generate hype about the event. Make sure your headlines are catchy to increase your open rates. Include VIP discount codes, digital gift cards, and other incentives to make customers excited about your upcoming sales. You can also send sneak peaks at any new products you may be unveiling. (Download our free Promotional Offer Tip Sheet for more ideas on how to promote your products.)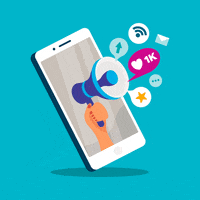 It's especially important to be marketing on social media during high-traffic shopping holidays like Black Friday and Cyber Monday deals.
Make sure you're using the right platforms for the right promotional material. Create visual-heavy, promotional posts with hashtags on Instagram such as #BlackFriday and #CyberMonday. Craft short and sweet text-focused promotions on Twitter. Promote your deals on LinkedIn, especially if your company is in the B2B spheres. And Facebook is the happy medium, where text, image, and video can converge!
As we mentioned earlier, you should promote your sales across social media platforms at least a few times before the actual sale begins. If you have an advertising budget, you can also invest in Facebook ads and ads on Instagram to target certain demographics. This will make your marketing even more effective.
For more social media tips, check out our recent blog "How To Get the Best ROI From Your Social Media Marketing."
4.) Offer Rewarding Programs & Incentives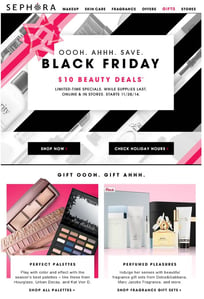 Make sure you're providing incentives for customers both new and old to shop with you. This ties into your email and social media marketing strategy as well.
In your promotional emails, offer subscribers a code for 10% off, a digital gift card for $5 off to use, or advertise that you're offering free shipping after a certain dollar amount is spent. In your social media posts, you can offer a major discount or even free products to a lucky follower who follows your account, reposts your promo post, and tags one to three of their friends.
For more tips on how to design promotions, download our free cheat sheet that you use for Black Friday, Cyber Monday, and beyond!
5.) Use Google Ads To Reach New Audiences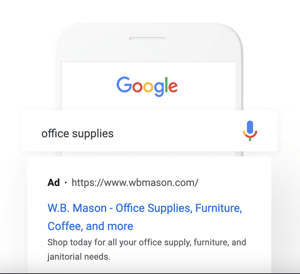 Take advantage of Google's online pay-per-click (PPC) advertising program in which you can pay to promote your products. When people search for products like yours, Google will display your ad and the user can travel right to your website. Your products can also appear on Google Search, Maps, and across a network of Google's partner sites.
Promoting on Google Ads has shown to be very effective. According to HubSpot:
Google Ads has a clickthrough rate of nearly 2%.
Display ads yield 180 million impressions each month.
For users ready to buy, paid ads on Google get 65% of the clicks.
If you have the budget for PPC advertising, definitely consider leveraging the power of the most popular search engine in the world!
6.) Create a Black Friday/Cyber Monday Landing Page
Create a landing page that makes it easy for shoppers to see your upcoming deals, opt-in for reminder emails, and even buy your products! Make sure it follows landing page best practices, including simplicity, readability, an appropriate amount of negative space, no navigation, compelling copy, and a bold Call To Action.
Apart from advertising your sales, landing pages work great for selling physical products, digital products, and memberships. A shoppable landing page should contain everything a visitor needs to know to make a purchasing decision.
Here's an example of a shoppable landing page we created for one of our clients: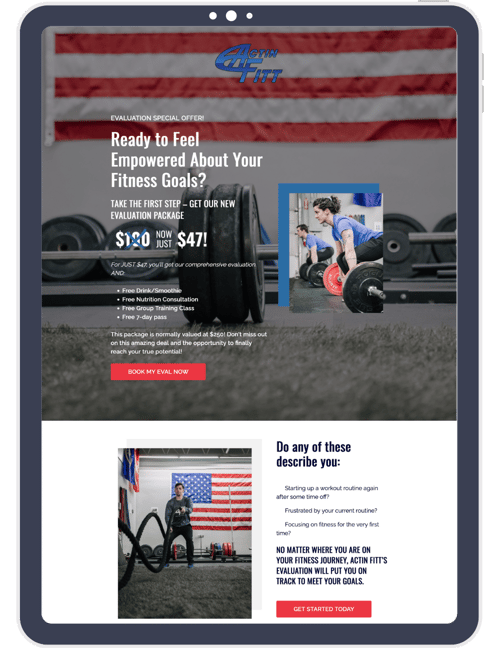 Once you've got your landing page, you can include a link to it on your social media posts to show customers where to go to find your Black Friday/Cyber Monday Deals. That means you can sell right from your social channels!
Shoppable landing pages also allow customers without an ecommerce website to drive sales online.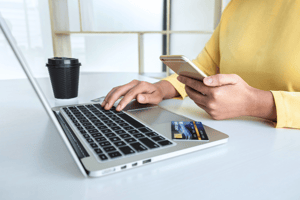 Holiday shoppers are going to have little patience for websites that aren't user friendly (or take forever to load). Before the holiday, make sure you're optimizing your website so that it can handle an influx of users.
Increase your site speed by getting rid of unnecessary plugins or code that may slow your website down.
Make sure your check out process is smooth and easy for customers.
Invest some time into improving the overall design of your website—you want it to look nice, but you also want your design to leverage human psychology.
Finally, consider installing a helpful chatbot on your website to help customers who might encounter trouble.
Need Help With Your Black Friday Marketing? Consult With The Experts at Wild Fig!
Whether you need to create a proactive email marketing campaign or a social media strategy, schedule a free exploratory call with Jen, our VP of Opportunities, today and see if our marketing experts can meet your needs! Or you can connect with us by visiting our website.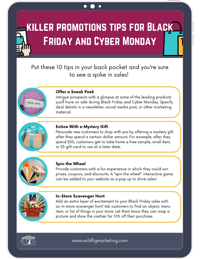 Want more tips on how to build promotions that will generate revenue on Black Friday and Cyber Monday? Don't forget to download our free informational "cheat sheet" that shares 10 key tips on how to promote products like a pro! 👉