11 min read
Social Media Platforms 101: Choosing the Right Ones for Your Business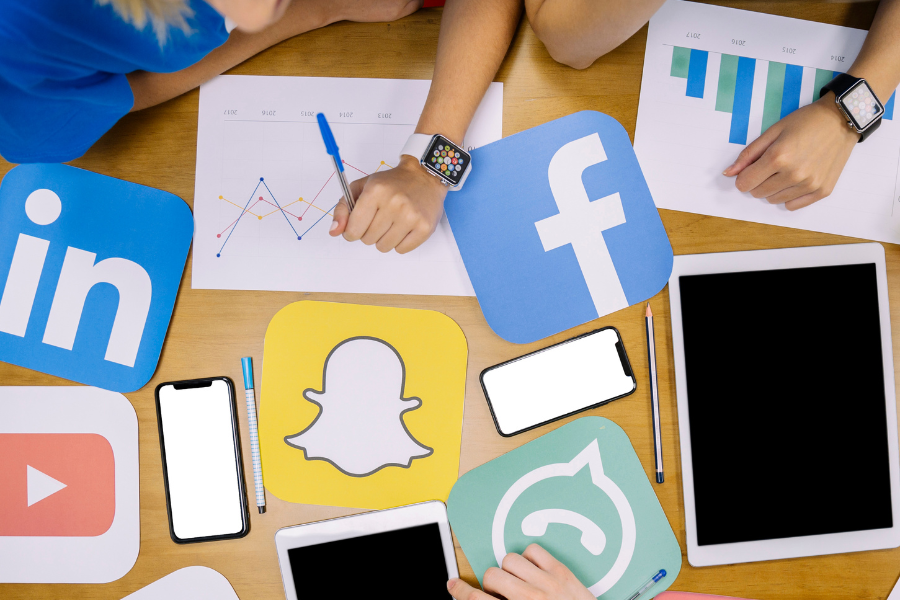 So...how's your social media marketing going?
If that question made you cringe, we get it. Managing your social media presence can feel overwhelming…especially when you're also trying to run a business.
Just deciding which platforms to use can be mind-boggling. There are hundreds of social media platforms out there (no, that's not an exaggeration — here's a partial list). Plus, there are dozens of ways to share content to those sites: text, links to external articles, photos, videos, live streams, and so on. With all these options, creating and executing an effective social media marketing strategy is a big job.
If you're like most businesses, you have limited time and budget to invest in social media marketing…you can't possibly be active on every channel! So how do you choose the right platforms for your business?
Luckily for you, we've got your back. In this blog, we'll take a look at some of the most popular social media platforms, including pros and cons for each. Then, we'll talk about how to choose the right ones for your social media marketing strategy.
Let's get to it.
Pros and Cons of Different Social Media Platforms
Facebook
With nearly 3 billion active users, Facebook is unmatched for reaching a wide audience. And while its fastest-growing demographic is trending older (55+), it remains a powerhouse for businesses seeking to reach both B2C and B2B customers.
Facebook helps you reach consumers and decision makers, drive brand awareness, and increase your industry authority.
In addition, Facebook Ads offer some of the best targeting options, giving you a relatively inexpensive way to reach your ideal audience.
However, earning and maintaining engagement on Facebook will require you to create a lot of content and post on a consistent basis.
Pros:
Biggest audience and reach
Works great for both B2B and B2C content
Excellent ad targeting options
Cons:
Demographic skews older, with younger generations more likely to opt for other platforms
Requires consistent content creation and posting to maintain reach
Instagram

Instagram is a highly visual platform that plays host to a mix of brands, individuals, and influencers. Instagram's demographic trends younger than Facebook's, with 70% of users in the 34 and under age bracket.
Authenticity is key on Instagram: aggressively salesy posts won't cut it. You'll need to make an effort to build relationships with your followers through consistent posting of photos, Reels (short videos), and Stories (short photo/text/video posts that disappear after 24 hours).
With its prevalence of influencers and brands, this platform offers an excellent opportunity for brand-influencer partnerships. It's also great for giving your audience a look behind the scenes, highlighting company culture and events, and sharing user-generated content.
The Instagram audience is primarily interested in brands who have a clear brand image. This means taking the time to curate a consistent photo and video-based profile that clearly displays who you are as a brand.
Pros:
Excellent ad targeting options
Growing user base
Demographic skews younger—more popular with Gen Z and Millennials than Facebook
Great for influencer marketing
Great for visual branding
Cons:
To stay relevant, need to create and post consistent visual content
Difficult to gain traffic if you're not using Stories, Reels, and/or ads
LinkedIn
LinkedIn is a networking site for businesses and individuals, but contrary to what you might think, it's not just for finding a job or an employee.
This platform offers lots of potential for boosting your brand awareness and SEO (LinkedIn has fantastic domain authority, so you have a good chance of your company profile ranking in Google searches). It's also excellent for lead generation if you're a B2B business.

To get engagement on most social media sites, you need to tap into the personal side of your business, as personal content is more likely to engage your followers. But LinkedIn's professional environment allows for a more business-focused content strategy. This gives you the potential to build thought leadership and credibility…but only if you post consistently.
LinkedIn is a great place to share industry news, thought leadership articles, polls, and career advice. And for B2B businesses, it's the best online opportunity to reach decision makers and have conversations with industry leaders.
While it's free to set up and use a LinkedIn account, you'll need a (paid) LinkedIn Premium subscription for the best business marketing experience.
Pros:
Relatively easy to go "viral"
Professional environment, allows for less personal, more business-focused content
Great for building brand awareness and SEO
Great for generating B2B leads
Cons:
Need to post consistently to build credibility and thought leadership
Age demographic skews older
To get the most out of this platform, a paid LinkedIn Premium subscription is recommended
Twitter

Along with Facebook and Instagram, Twitter is one of the most well-known and widely-used social media platforms. It skews younger, with nearly 40% of Twitter users between the ages of 25-34.
Twitter gets faster reaction time from users than other social media platforms, and users tend to be very engaged. As such, it has the potential to be a solid lead generator.
Twitter is great for starting conversations with industry leaders and potential clients, as well as learning about your audience's pain points and gauging brand sentiment among your target audience. It's also an ideal place to offer additional customer support.
As a micro-blogging platform, there is a limit to the number of characters you can use in each post (280), although a new paid version allows longer posts (up to 4,000 characters). This isn't all negative though, as sometimes less is more—you just have to keep your posts concise and engaging.
In addition, Twitter posts have a short lifespan, so you have to post often to keep engagement up.
Pros:
Works well for both B2B and B2C companies
Highly engaged users
Great potential for lead generation
Great as an additional customer support option
Cons:
Posts have a short life (i.e., no evergreen content)
Limited analytics
Character limit for posts
TikTok

TikTok is a platform of entirely short-form videos. And while you may think that this platform is just for teenagers shooting videos of themselves dancing, think again. With a billion monthly active users, TikTok is one of the top 20 websites visited worldwide, and was the most downloaded mobile app of 2022.
There are a lot of views and engagement to be found on TikTok, and it is quickly becoming one of the most sought-after apps for social media marketing. And while the app doesn't allow outright advertising, it's a great place to partner with influencers to highlight your business.
Pros:
Growing rapidly
Great for influencer marketing
The most downloaded mobile app
Cons:
Doesn't allow outright advertising (though influencer/affiliate programs are allowed)
No static posts—need to invest time and talent into creating and editing videos
YouTube
With more than 2 billion users, YouTube is the internet's top video hosting site. 81% of U.S. adults use YouTube, and it is the second most-visited website in the world!
YouTube is the perfect place to share product demos, explainer videos, tips and tricks, and educational webinars.
It's also a great place to promote your brand: 70% of users bought from a brand after seeing branded content on YouTube. You have a couple options for advertising on this platform: traditional ads that play before or during videos, and partnerships with content creators who will promote your products and services on their channels.
Pros:
Top video-hosting site
Great targeting options
Second most-visited website in the world (after Google)
Google Ads integrations available
Great for partnering with influencers
Cons:
Bigger investment of time and money to produce videos
Easy for users to skip ads or avoid them altogether with ad blockers
Pinterest

With 450 million users, Pinterest reaches a smaller audience than many other platforms. But that doesn't mean it isn't worth your time.
This platform seems to garner interest from a wide age range: The median age of a Pinterest user is 40, so it is ideal for marketing to millennials. But baby boomers are their biggest demographic, holding 38% of activity on the platform. It's beginning to reach younger generations as well.
Pinterest acts as a visual search engine for users looking for images, recipes, craft ideas, decorating inspo, and more. Users also find inspiration for their purchases on the app, from clothing to cookware to couches. If your business is great at visual content creation, Pinterest is a no-brainer.
(image taken from Search Engine Journal)
Pros:
Powerful search tool
Easy to drive traffic to your website
Boosts your organic Google ranking
Users are more open to ads than on other platforms, as they're already searching for things they want/need
Cons:
Smaller audience than other platforms
Creating quality photo and video content can be time-consuming
How To Decide Which Social Media Platforms Are Right for Your Business
On every social media channel, success requires consistent posting. And because every platform is a little different, your efforts will be more effective if you tailor your content to each platform. So to get the most out of your social media marketing, you have to think about which platforms will be the best use of your time, budget, and resources.
Choose the platforms that are most likely to connect with your target audience, bring you the most return on your investment, and fit your marketing style.
So how do you determine which platforms meet those requirements?
First, do a little research to figure out where your target audience is spending their time online. Consider your ideal customer demographics, B2B vs B2C, and so on, then look at which platforms are best for those audiences.


Next, look at which social media platforms your competitors are active on. Pay attention to what content they're sharing, how often they post, and how much engagement they seem to be getting on their posts.


Finally, consider the time, energy, and talent needed to produce effective content for each platform. For example, if you don't have the time or skills to film and edit video content, TikTok and YouTube may not be the best choices for you. And if your target audience is mostly made up of Baby Boomers, you'll want to choose Facebook over TikTok.
A word to B2B businesses: If you think social media isn't necessary for a B2B business, think again! 40% of B2B buyers use social media to inform their purchasing decisions. Ultimately, you're still selling to people, and you need to be where the people are! However, some channels work better for reaching company decision-makers than others, so just make sure to direct your social media marketing efforts to those channels.
Still feeling overwhelmed and not sure where to start? Download our Social Media Cheat Sheet or start with a couple of platforms from Wild Fig's top choices for B2C and B2B businesses:
Want to outsource your social media marketing to a pro? Trust the team at Wild Fig! We love helping our clients develop and execute social media marketing strategies tailored to their needs. Learn more here.